Looking for a natural makeup look with great coverage?
Fuschia is a premium makeup brand and our mission is to empower women by helping them to look and feel at their best. Our Loose Mineral Foundation is by far our most popular product and is perfect for Irish complexions. As makeup artists and specialist suppliers of beauty products to the Irish market, we work with many clients who seek a natural look and prefer a dewy look. That's why our Mineral Makeup range has become our best-selling range to date.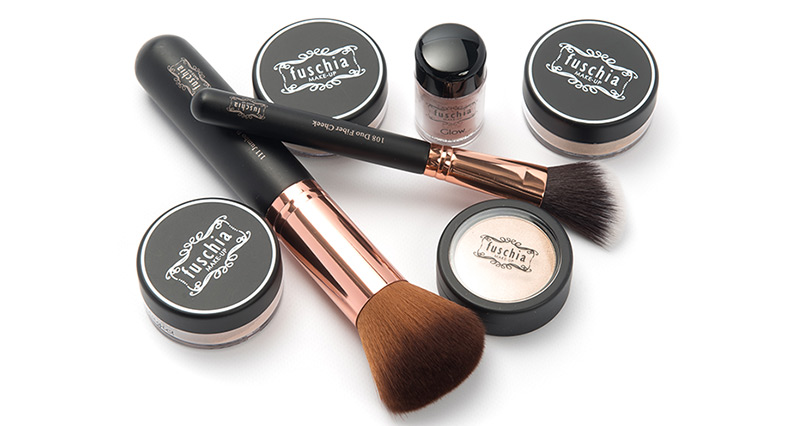 What is mineral MAKEUP?
Mineral Makeup is makeup in its purest form. Cruelty free, Vegan, completely natural and with no chalks or talcs, these products are silky smooth and glide on for easy application. The Minerals work with your skin's natural oils to give a gorgeous, glowing coverage. Our Mineral range includes Loose Powder, Pressed Powder and Liquid Foundations, beautiful Blush, Concealers, Highlighters and creamy Lip Glosses.
View our full Mineral makeup range here
.
WE ARE ALL NATURAL
Our Mineral Makeup is derived from completely natural ingredients with no harsh chemicals, preservatives, alcohol or dyes – it really is make-up in its purest form. It is cruelty free and suitable for vegans which is something we are very proud of. It is suitable for all skin types, and is great with acne-prone or problem skin as it soothes and heals while you're wearing it! Its natural composition means it does not irritate skin or clog pores.
MINERAL POWDER FOUNDATION
Loose Mineral Makeup is a powder that is best applied to clean, dry skin and built up gradually. This allows the product to gel with the natural oils in the skin to create a gorgeous, liquid like coverage. Our Loose Mineral Foundation does not contain chalk or talc, so the finish is smoother, and less 'powdery'. We recommend two layers for a lighter day look, while 3 layers gives you full coverage. Mineral Makeup comes in seven shades and can also be applied over liquid foundation if you prefer heavier coverage.
Dip, Tap and Buff
Our famous dip dip, tap tap, buff buff method ensures a natural application with great coverage. The end result blends away any imperfections or discolouration and leaves an all over glow that suits every type. Simply dip the Jumbo Buffer brush in a small amount of product, turn upside down and tap-tap to distribute evenly through the brush, then simply buff in circular motions.
View how to apply HERE.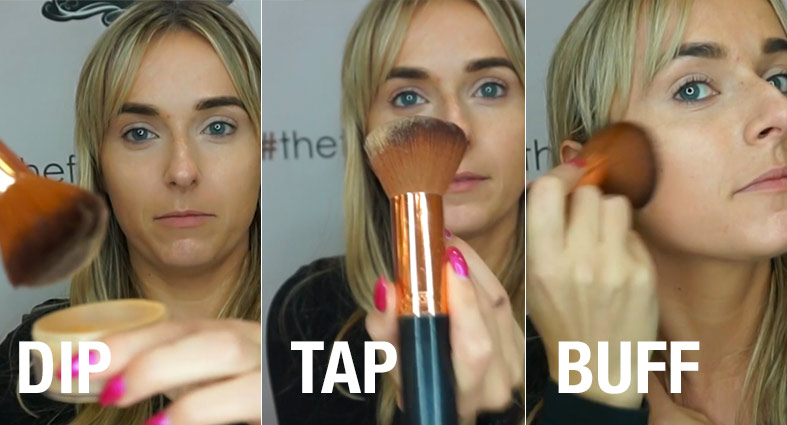 ANY QUESTIONS?

I don't usually like powder. Will it dry out my skin? No. Although this product looks like a powder it does not contain talcs or chalk which can be drying. Our product is silky soft and works in harmony with your skin's natural oils, making it feel more supple. We do, however, recommend using our D20 Hydrating Spray before applying Loose Mineral Foundation.

Will it clog my pores? No. The natural composition of our Mineral Makeup means the particles are too big to clog pores.
Why is the makeup shiny? Our powder works with your skin to give you a dewy, naturally glowing finish. However, if the glow is too obvious, you have possibly applied too much product without allowing each coat to 'settle'. Simply apply our Mineral Rice Powder to calm down the glow.
Will it give me sufficient coverage? Our Mineral Foundation works best as layered, built up gradually. The more you apply, the more obvious the coverage. We often apply 3 layers for a glam evening look. You can also apply our Loose Powder Foundation over a liquid layer for even more coverage.
I don't want a 'heavy' look. Can I get a simple daytime look with your foundation? Yes! Because Loose Mineral Foundation works as a layered product, one application is plenty for a natural, fresh day look.
The pot is small. Do I have enough to last? Yes! You really only need a very small amount of product to get great coverage. Follow our Dip, Tap and Buff method to get the most out of your foundation!
I have bad acne. Is your powder ok to use? Always do a 'patch test' when using any new makeup. However, our foundation is perfect for problem and sensitive skin. It actually contains anti-inflammatory properties which soothes and heals as you wear it. Our Mineral range is 100% natural, working with your skin rather than against it.
You can try Mineral Makeup in 5g or 10g sizes and if you'd like to harness the full benefits of this beautiful skin range our Mineral Collection pack contains Mineral Foundation in 2 shades, Rice Power, Glow Blush, Highlighter, Jumbo Buffer Brush, Vanilla Mineral Lipgloss and Correct&Perfect Mineral Concealer helping you to achieve flawless, long-lasting, all over coverage.
View our full Mineral makeup range here
.